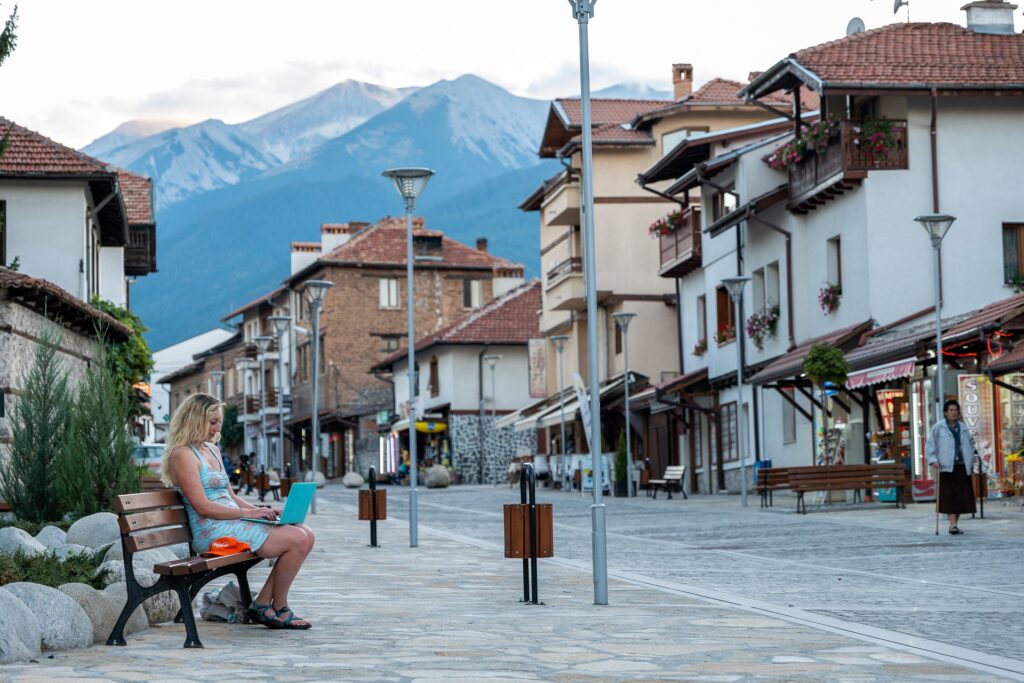 21st February 2023
With economies in the EU showing promising signs of resilience (the slowdown in growth not as pronounced as that experienced in the UK), job opportunities will open up for global contractors, especially digital nomads and remote workers. Many EU countries are targeting overseas talent and enticing them to come and work in their countries to help stimulate growth, offering visas to individuals who qualify. With this in mind, this blog takes a look at the rise of digital nomads and what it means for recruitment agencies.
The trend for digital nomads is most certainly on the up. A report by direct resourcing platform MBO Partners found  that a whopping 17 million Americans considered themselves to be digital nomads, up 131% since 2019 as reported by Forbes. What is interesting to note here is that this group is not only made up of contractors and freelancers as you might expect, but it also comprises those in traditional employment roles, typically highly skilled individuals working in a variety of industries such as IT, digital and tech, sales, marketing and consulting, who now account for two thirds of that number.
Despite the economic landscape and challenges, the demand for specialist skills is only set to continue given the dearth of talent across so many industries. As Dr. Rochelle Haynes, CEO of Crowd Potential Consulting says in the piece, "In the worst state of the economy, we were still seeing an increase in digital nomadism, especially among those who are highly skilled." It's easy to see why this might be the case as attracting digital nomads fulfils a dual need, filling critical skills gaps while stimulating domestic consumption and fuelling economic growth. It's a smart business strategy!
There are many benefits for the digital nomad. Many of course re-assessed their careers during the pandemic, which led to terms such as the 'Great Resignation' or 'Great Reshuffle' being coined. But individuals are looking for the added flexibility and work-life balance that comes from taking up opportunities in countries that offer so much – improved quality of life, lower cost of living plus the mix of stunning locations, good weather as well as cultural and leisure advantages. The same survey also found that 81% of digital nomads were highly satisfied with their life and career goals.
Recruitment agencies engaging with digital nomads
Incredibly, there are now over 50 countries offering digital nomad visas, enabling global contractors to take up roles in all corners of the globe. Examples outside Europe include Thailand, Brazil and Mexico. The beautiful Caribbean Island of Barbados first introduced its visa on 30 June 2020 at a time when the pandemic was wreaking havoc around the world. Called the 'Barbados Welcome Stamp', it is valid for 12 months (but can be renewed after the first year) although certain requirements need to be met, such as being able to demonstrate annual earnings in excess of $50,000 (in US currency).
Another country that has recently introduced a digital nomad visa is Spain. Long a favourite destination for contractors for its relaxed lifestyle, fantastic food and year-round warm climate, its visa targets non-EU nationals, allowing them to live and work in the country for up to five years. Part of the government's 'Startup Act' of 2021, the visa was approved in November 2022 to facilitate entrepreneurship in the tech sector. Minister for Economic Affairs and Digital Transformation, Nadia Calviño had previously alluded to the importance of attracting global talent and remote workers.
In terms of the rules and regulations of the Spanish digital nomad visa, non-EU nationals can work remotely for companies based outside the country and are allowed to earn up to 20% of their income from Spanish firms. The visa is available to both contractors and freelancers who are self-employed as well as remote workers employed by a single company. They must have been working for their clients and companies (which must have been trading for over a year) for at least three months. In the case of the latter, a contract of employment must be provided and proof that their job can be done remotely.
There is a real momentum behind digital nomad visas, as countries and governments across the EU seek to bring in much-needed skills and encourage a start-up culture to bolster their standing in key fields such as tech. They also know that the spending power of these remote workers will serve as an economic stimulus to the local economy. Companies placing international contractors must however follow all local employment legislation and importantly ensure that they remain tax compliant in those territories concerned.
6CATSPRO is part of WorkwellTM Group
To read more of our blogs click here
And follow us on LinkedIn