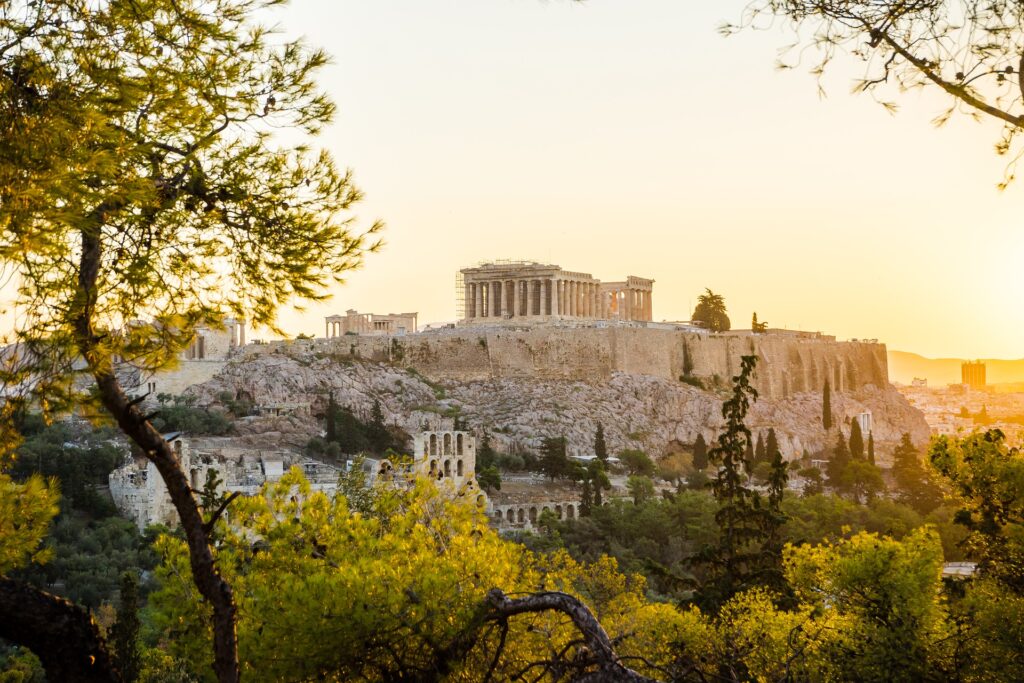 30th September 2022
The draw of working internationally is hardly surprising, particularly for those working in the UK who might prefer a slightly cheaper winter than they might get here. However, for the agencies placing specialists around the world, there are numerous challenges when it comes to managing compliance issues, varying employment laws and foreign employment regulations that differ from location to location. That's before we even get into digital nomad visas and what they could mean for contractors and agencies. However, despite these challenges, the lure of working overseas is still strong and we've outlined some of the top destinations for digital nomads and highlighted what agencies need to keep in mind when placing contractors here.
Athens
What's not to like about Athens really? The climate is great, as is the food and culture, so it's hardly surprising that the Greek capital takes the top position on our list. Greece is one of the countries – alongside the likes of Malta, Germany and Spain – to have introduced Digital Nomad Visas, which allows contractors to work anywhere in the country for 12 months, although they must provide evidence of sufficient funds (€3,500 per month). The cost of living in Greece is around 30% lower than most Western European countries, however Athens is more expensive than almost anywhere else in Greece. But that's one of the few downsides to working here which is why demand from contractors for is so strong. There are numerous major co-working spaces available in Athens including Impact Hub and Vios Co-Working while for those looking to travel to Crete, 'CreteWork' is extending the 5G network to cover the entire island in an attempt to lure more contractors. In terms of digital nomad compliance and indeed compliance for agencies placing all types of contractors and remote workers, there are a few things to keep in mind. Anyone working in Greece for longer than 90 days will be subject to income tax and solidarity tax on a sliding scale according to estimated annual earnings, both of which are deducted at source. Pay is also subject to social insurance deductions and, at the end of the contract, a letter to tax authorities is necessary to de-register.
Prague
The Czechia capital offers a 'trade licence' that any contractors you place will need to apply for. Like in Greece, professionals working here will require an eligible trade licence, sufficient funds, health insurance and proof of accommodation for at least a year. However, putting compliance issues aside for a moment, Prague is regularly ranked as one of top cities in which to live and work and, as a global tourist hub, English speakers won't find it overly challenging to operate here. WiFi connectivity here is also generally very strong and the country is rolling out the catchily named 'National Plan for the Development of Very High Capacity Networks', which was approved in Parliament last year. Czech citizens are the world leaders in the most beer drunk per capita and in the capital it's possible to experience 'beer n' spa' which doesn't need much additional explanation. Prague was the first post-communist city to have a Michelin-ranked restaurant and while not as well-known as the various breweries and bars, there are a number of outstanding places to eat and visit for anyone operating here for a significant amount of time.
Split
Croatia is one of the fastest growing destinations for holiday makers and Split, with its strong tourist economy, is one of the leading drivers of that growth. The city is the second largest in the country and is the capital of Dalmatia where there are eight UNESCO World Heritage sites within two hours. As the site where the last legal Roman Emperor was killed, Split offers outstanding history and a wide range of outstanding opportunities for contractors looking to work here, however any agencies employing or placing digital nomads must remain on top of the various regulatory challenges presented by the domestic tax authorities. Croatia's visa requirements include proof of remote work, sufficient yearly income, health insurance, security background checks and a rent contract, although once these clauses are satisfied, recruitment firms can place professionals here for up to a year. On the upside, the Croatian visa allows for close family members to join those living and working here during that period, although accommodating more than one family member will require additional legal and specialist advice.
Porto
Once known as Lisbon's ugly sister, Porto has blossomed into one of Europe's leading destinations in recent years, and offers a lively arts and culture scene as well as outstanding restaurants and bars. The eponymous wine is also originally from here and any contractors operating in Porto are highly encouraged to visit the Port Wine Cellars. A number of other major cities are within easy reach and the city's metro system actually has a direct line to the beach at Matosinhos. Porto offers a cost of living cheaper than European cities like Dublin and Berlin while the country more broadly has the 17th fastest internet in the world, which contributes to its status as a top destination for those with the capacity to work from anywhere.
In terms of compliance, agencies placing professionals in Porto and across Portugal should be aware that this is a complex market for agencies to navigate, so remember if you're in any doubt about your digital nomad or contractor compliance status, get in touch with the experts before it's too late.
Tallinn
The final city on our list is Tallinn, the Estonian capital and a UNESCO World Heritage site. Tallinn is probably best known for its history and Old Town, under which are a labyrinth of 17th century tunnels, which were used as bomb shelters during WWII and were only opened to the public in 2010. However, perhaps less well known is the fact that Tallinn is also a beach city, with the Pirita district offering over 2km of unspoilt beaches with views out to the Baltic Sea. Estonia is a remarkably affordable place to work with rent, food and travel all costing less than most other European capitals. The capital is emerging as a tech hub and has a growing sector of its own with a number of major organisations based here. In addition, with Iceland, Estonia has the best free and open access internet in the world, according to the Freedom of the Net Index. However, Estonian tax legislation is not easy to navigate. Foreign nationals can potentially work here for up to a year as a contractor, however it's advisable to source expert advice before tackling their compliance statuses.
This list provides just a selection of some of the leading cities for agencies to place contractors, however, while demand for overseas opportunities remains strong, there are major risks when managing international compliance. Since the Criminal Finances Act was introduced in 2017, agency owners and directors are liable for any regulatory breaches carried out by the professionals they place. This means that, unless you have a working knowledge of the Estonian tax system, for example, you could be taking a major risk and could face significant fines or even prison sentences in some cases. If you're in any doubt, speak to 6CATSPRO before it's too late.
6CATSPRO is part of WorkwellTM Group
To read more of our blogs click here
And follow us on LinkedIn