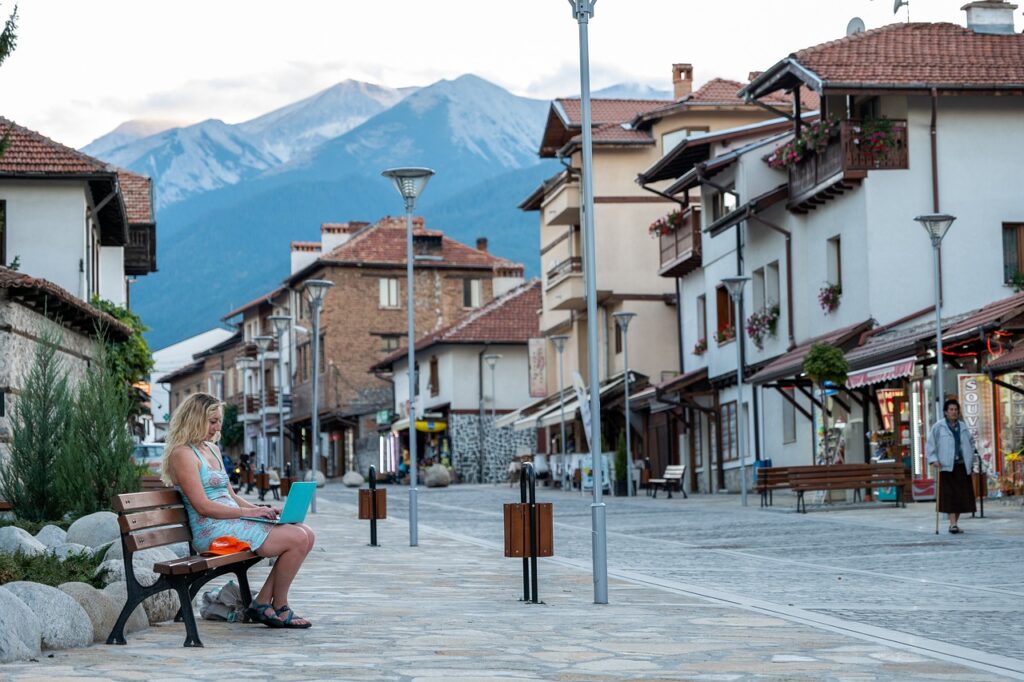 10th November 2023
Regular readers of our blogs will know about the rise of the digital nomad and the spread of this employment model in countries around the world. But where are the best countries for digital nomads to operate from, and what do agencies placing them need to remember to remain compliant with domestic legislation?
Best countries for digital nomads
Portugal
Portugal is (perhaps unsurprisingly) one of the top destinations for professionals looking to work remotely. The vibrant Western European nation is packed with cultural opportunities, outstanding architecture beaches and world-leading cuisine. It also presents an inviting working package and is frequently listed as one of the top destinations for digital nomads, including in a major study by travel firm, Kayak. Porto and Lisbon are two of the more popular locations, however, smaller country-side locations like Tavira, Aveiro and Sintra also lure high numbers of international professionals looking for new locations to work. Aside from the great weather, food and connectivity, Portugal also offers a specific visa for digital nomads that enables them to work here for up to a year. There are some criteria to meet, mainly that applicants need to provide proof that they earn more than four times the Portuguese minimum wage, which equates to around €2,650 per month.
Romania
A country that appears less often on digital nomad rankings is Romania, but it's one that is certainly becoming more in demand. The country has proven itself to be an emerging destination for international contract specialists and offers a low cost of living, particularly for those used to much higher costs in Western Europe. Rent, utilities, food and fuel prices in Romania are some of the lowest on the continent and it also offers outstanding levels of natural beauty as well as an extensive history in its network of medieval towns. That's not to say that Romania doesn't offer everything needed to operate as a digital nomad; it can provide reliable internet connections and, in larger cities like Bucharest, masses of co-working and networking facilities. Like Portugal, Romania also offers a digital nomad visa, although requirements differ somewhat from its European neighbour.
Ecuador
Anyone considering working from Latin America is probably most likely to think of Brazil or Argentina, however Ecuador is growing in popularity and has found itself becoming a hub for digital nomad workers. Professionals operating here will benefit from working in a nation that is still off the beaten track, but also provides a low cost of living as well as opportunities to enjoy a higher quality of life than would be available for a comparative budget in Western nations. Ecuador is one of 17 nations listed as 'megadiverse', which means it's an attractive prospect for anyone looking to connect with nature, and, as the name suggests, it's on the equator meaning the climate is highly attractive, particularly to those pining for the end of the European winter. It too provides a digital nomad visa for professionals, and it's generally seen as one of the least demanding of any on earth, with professionals able to operate here for up to two years before needing to reapply.
Indonesia
The Southern Asian giant regularly makes an appearance in the list of the best countries for digital nomads, and it's not entirely surprising. Indonesia is a truly colossal country and, as you'd expect from somewhere of its scale, it can offer a bit of everything.  From laid-back island life to fast-paced major employment hubs, it's easy to see why so many professionals choose to operate from here. Bali is particularly popular and provides scenic seaside villages, access to nature and a wide variety of co-working facilities, although there are dozens of potential locations to choose from. The country's 'Second Home Visa' is particularly inviting and enables foreign nationals to work in Indonesia for up to five years, however, those choosing to operate from here will have to deal with a time zone that is 11 hours ahead of the USA and seven ahead of the UK.
Mexico
The final country on our list needs little introduction. Mexico has been one of the more popular working destinations for digital nomads for some time who have been attracted to its combination of peaceful beach living and major employment hubs. For those based in the US, Mexico is great for professionals seeking cheap flights and relatively low travel time, and the cost of living is significantly cheaper than most Western-based individuals will be used to. The main downside to Mexico is the heightened security risks. The majority of the country is safe, however, there are some key regions to be avoided if taking on a contract or remote role here.
As more and more countries open their doors for digital nomads and international contractors, agencies placing specialists have an ever-growing number of legal challenges to deal with. The non-compliance of the professionals you work with could lead to punishments including fines and prison sentences for the agencies placing them, and unless your business feels confident in its ability to manage Ecuadorian or Indonesian taxation systems, then you are strongly advised to partner with an expert firm to help you reduce the risk. If you would like to speak to our expert team before you place digital nomads in your network then get in touch with us today.
6CATSPRO is part of WorkwellTM Group
To read more of our blogs click here
And follow us on LinkedIn